 26 Sep

Bursting with flavour!

So as mentioned yesterday I used the remaining beetroots to make a super juice! (Beetroot really needs to get more credit these days and rid itself of the awful tasteless, Chef jar, pickled associations of the 1980's…)

So for this juice I have included the following;
1 Beetroot
250g diced carrots
Juice of half a lime
1 Orange
125g Strawberries

Dice the carrot, beetroot, orange and strawberries and juice.
Chill and enjoy..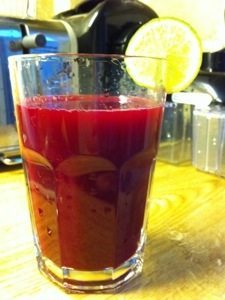 Nutritional values
Vitamin A 70,652iu
Vitamin C 166mg
Potassium 1,646mg
Magnesium 91.5mg
Selenium 5.1mcg
Kcal 259