 29 Jan

Wild Tasty: Coconut Yoghurt

The first time I tried CoYo I hated it! I had to double check the ingredients list because I couldn't believe it was vegan. It tastes so much like regular natural yoghurt. Needless to say, when I got my double and triple reassurance and tried it again, I slowly fell in love with it. When you have removed that bitter/sour food taste from your diet, it's shocking to reintroduce it. Now I love it and it's so handy for snacking. I try to get a little 125g tub every week and that does me for 2 snacks in the week. This week I tried the strangest thing…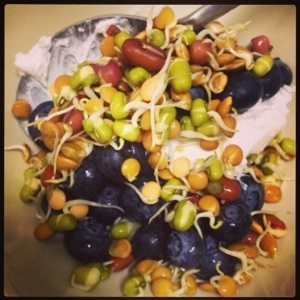 1/4 cup CoYo, 1/4cup blueberries, and 1/4 cup sprouted lentils and mung beans! It was so tasty and super healthy.
Today as work was coming to a close and I was aiming to get finished up in time, the munchies came on me. If I was to finish my work, I was gonna have to fuel for it. So I whipped this up: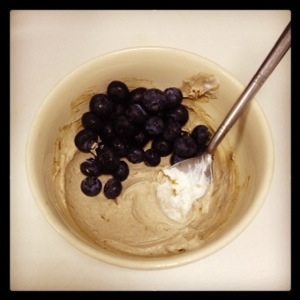 1/4cup CoYo, 1tbsp chocolate protein powder (I used VegaOne), and 1/2 cup blueberries.
Deelish!
I bought some shelled hemp seeds and I'm gonna throw them in with some cacao nibs and raspberries next week. It's all about the balance of carbs, protein, and healthy fats with this snack and I'm not too interested in calorie content!
what's your favourite non-dairy yoghurt? What should I throw into the mix next week?