 16 Feb

Wild Tasty: Nutella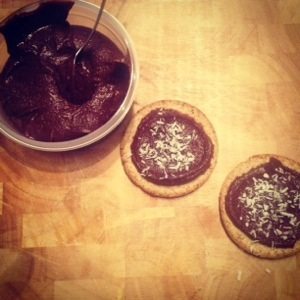 I was a total Nutella addict in 2009 and 2010, just before I went Vegan. In fact, the impulse to go vegan for ethical and spiritual reasons was almost negated by the thought of never eating Nutella again. I genuinely didn't know how life would go on without a spoonful of chocolatey-hazelnutty goodness every few hours. I went through 3 small jars a week and to this day I've a few friends who incredulously bring up that part of my past: "remember when you were a Nutella junkie?" Yeah. I remember.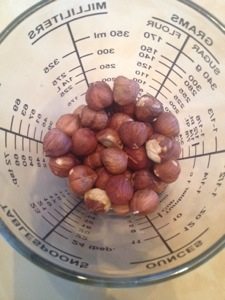 I've been coyly looking online to see what kind of recipes there are for Vegan Nutella. But was that a good idea? Was it safe to return to that old habit? Was I stronger now that I could forgo eating the whole thing at once? Healthier now that the impulse to gorge is no longer a problem?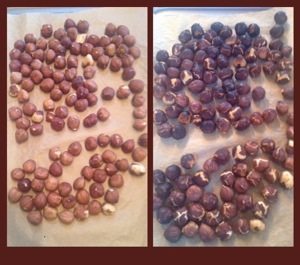 There was only one way to find out.
I decided the most important thing was to make a small batch. Nothing says gluttony-fest like making a massive jar of sugary-chocolatey-nutty-fatty goodness and pretending you're going to limit yourself to a teaspoon a day. You're going to eat it all within hours of its existence. So 'it all' is what needs to be limited. This recipe makes about 3/4 cup in total. Yeah. You're welcome!
Ingredients:
1 cup hazelnuts
2tbsp raw cacao
1tsp vanilla powder
1tsp coconut oil
1/4 cup maple syrup
1tbsp coconut milk
1. Spread hazelnuts on a lined baking tray and roast at 220 for 8 minutes.
2. Let cool slightly and rub in a towel to get all the skins off. This is pretty laborious but don't get too fixated on removing every little bit of skin.
3. Put hazelnuts in blender or food processor and blend into nut butter, scraping down the sides as necessary.
4. Add all the rest of the ingredients and blend
5. Transfer into a jar or airtight lunchbox and use sparingly on top of oatcakes, with apple slices, or straight into your mouth with your fingers.